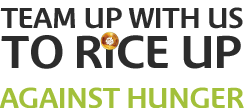 Thanks for your interest in partnering with Freerice. Freerice.com provides free education to anyone online while supporting the United Nations World Food Programme's fight against hunger. For every correct question answered on Freerice, 10 grains of rice are donated to WFP through banner display.
Sponsoring Freerice.com is a win-win situation!. Your brand can enable players to increase their knowledge while making a real impact in the lives of the hungry.
Audience information:
The Freerice community is vibrant, diverse, and highly committed to fighting hunger worldwide.
On average, Freerice.com sees over 1.2 million unique visitors and 150 million page impressions every month. Our community is loyal and visits the site often with an average session over 13 minutes.
Ad units and CPM
Freerice is committed to keeping the entire experience as clutter free as possible and therefore only offers one ad space - a leaderboard (728*90) displayed immediately below the question area.

These banners are sold at the rate of $1 CPM. We require a minimum buy of $5,000.
Ad submission guidelines
Freerice is a community of multiple people from diverse backgrounds;as such, we exclude banners that:
endorse any political parties or ideals
endorse any particular religion
promote liquor, alcohol, drugs, gambling or any illegal products
are sexually explicit or discriminatory
promote dating sites, cosmetic surgery, etc.
Additionally, we cannot display banners with sound and / or "pop-up" functionality.
If your company is interested in helping, please contact us at wfp.freerice [at] wfp.org
Ad display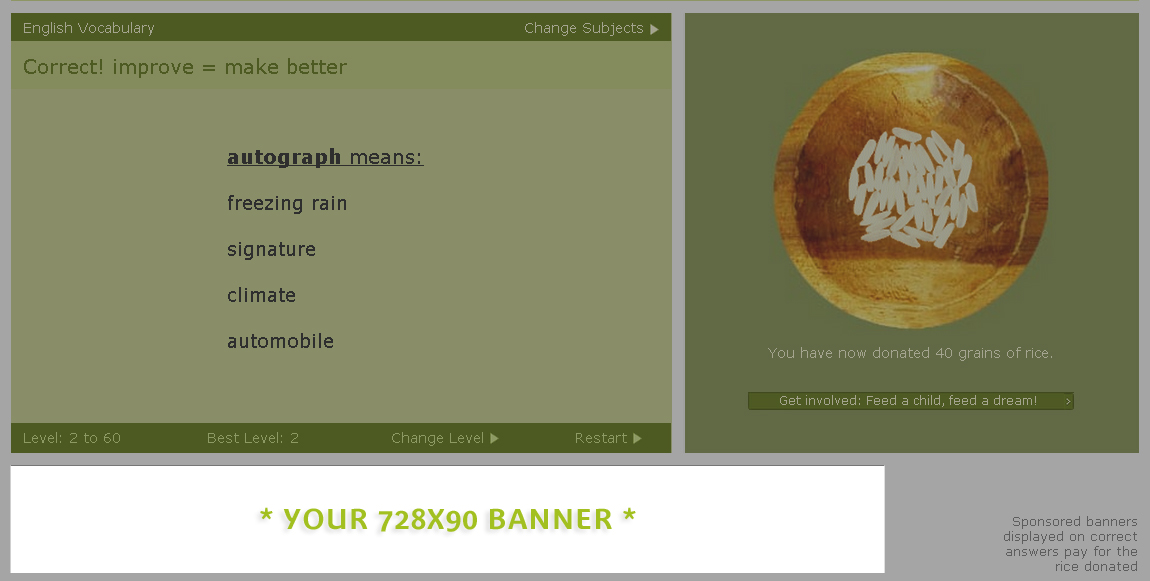 Thank you!
Thank you for your interest in supporting and improving Freerice.
Hunger is the world's greatest solvable problem. The solution requires no scientific breakthroughs, no miracle medicine. We already know all that we need to know, to resolve the problem! Go to the World Food Programme's website to find out more about hunger.
Freerice has become a highly effective tool in the fight against hunger worldwide, and with your help we can do even more!